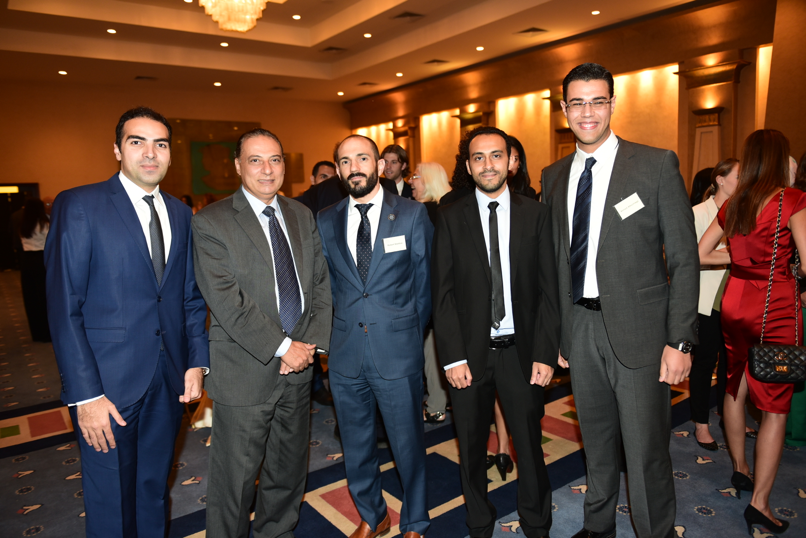 2014 Gabr Fellow Ahmed ElNaggar, Dr. Mohamed Kamal, 2016 Gabr Fellow Robert Sheldon, 2014 Gabr Fellow Ahmed Naguib and 2016 Gabr Fellow Ahmed Abul Naga.
24 October 2016
A reflection on the Gabr Fellowship on a Personal and Professional level
By 2016 Fellow Ahmed Aboul Naga
On a personal level, maybe I am one of the luckiest fellows as from the very beginning, I was very much interested in the nature of the relation between the world's leading nation and the leading Arab country, and the broader vision the fellowship helped me to develop, was incredible on many different levels.
I had the opportunity to meet with a group of the best Egyptian young leaders in many different fields, who are really made me feel proud and optimistic on the future of my country.
As for the American fellows, I was truly amazed by the very finely selected caliber of them on a professional level, and the extremely kind and gracious characters on the personal level. They helped me a lot to understand more and I couldn't be prouder to call them my friends.
Also I am feeling very lucky to meet with Chairman Gabr, who is simply a unique statesman, as I learned a lot from his broader vision and the way he sees the world, to his incredible ability to bridge the gaps, transmit his message and to build a very strong relations on the highest levels. On a personal level, I was really fascinated by the man's patience to listen to every fellow and trying to help personally or advising on the way the fellows can keep moving forward with an incredible support.
I am very much interested in the international relations and especially the relations between Egypt and the United States. I was offered an unprecedented opportunity to learn from top level speakers whether in Egypt or the U.S, where simply no one can offer a better opportunity to learn from such distinguished speakers but the fellowship.
It was the best experience I have ever had.