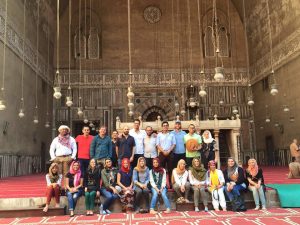 12 October 2016
East and West may not be so distant after all
By Mohamed Elattar
In our current world, we face a huge cultural misunderstanding between East & West. Assumptions and prejudices prevail on both sides. Being part of East & West Art of Dialogue has indeed reshaped several of the ideas and judgements I may have possessed myself.
I was honored to be selected as one of the Gabr fellows for 2016, where a group of Egyptians individuals from various sectors get to meet up with American ones and share a very intensive program in both Egypt and the United states. At first I felt the idea was quite intimidating. Not only are we going to be together for a period of time in both of Egypt and United states, but also that in each room, there is an Egyptian fellow and an American one. Finding I am staying in a room with a stranger from a different culture has indeed thickened the plot.
At first gathering, I believe fellows from each side were cautious of each side, not sure of what would "the others" react. Whether there were any hidden surprises or cultural differences may lead to blood bathes. But as the days progressed, I got to realize that "the others" are not necessarily wrong or evil. I came to realize that East and West have more common things than different ones. Once prejudges and wrong assumptions were eradicated, the core essence of humans was exposed and it is the same in east and west.
What I admire most about the program is that it covered two different levels of communications. In each country, we got to meet high official and intellectual persons who have demonstrated the way the government or elites of the society perceive a certain topic. This was completed by the second level; the fellow to fellow discussion and interactions. As we discuss after each meetings, the different opinions, I got to hear also the opinion of a normal citizen like myself and whether his or her perception of that certain topic was the same or a different one.
By the time I bid my farewell to my fellows in the United states, I felt I no longer ended a fellowship program and said my goodbye to colleagues, it was family members that I would always remember and cherish the memories I have with each and every one of them. I have gained a whole new family and feel great honor in being one of the Gabr fellows.
In conclusion, East and West are not so different after all, with a proper dialogue, willingness to understand, a bridge can be slowly built. It only needs the support of similar minded men like Mr. Gabr who would share the similar global vision that is far from being egoistic or selfish.