23 July 2017
The East-West: The Art of Dialogue Initiative was highlighted in a recent Huffington Post article by Sasha Toperich, Director and Senior Fellow, at the Center for Transatlantic Relations, Johns Hopkins SAIS. Toperich praised the work Chairman Gabr and the Foundation for bridge-building between The United States and Egypt.
Egypt parliamentarian delegation visits Washington D.C. after almost a decade
By: Sasha Toperich, Contributor Senior Fellow, Center for Transatlantic Relations, Johns Hopkins School of Advanced International Studies
For the first time in nine years, a delegation of Egyptian parliamentarians visited Washington D.C. During their week-long stay, which coincided with the Holy month of Ramadan, the 14-membered delegation met with a bipartisan cohort of U.S. members of Congress.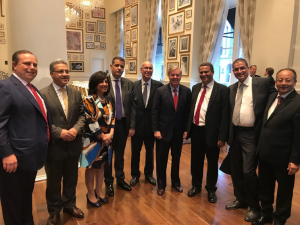 Egyptian members of parliament with Senator Lindsey Graham (R-SC) at the reception in Washington D.C.
The MPs also met with members of the Egypt Desk, headed by Yael Lumpar at the State Department, followed by meetings with representatives of various think tanks in closed settings.
In a symbolism that reinforces Egypt's commitment to building stronger relations with the U.S., the delegates were unable to eat or drink in between their meetings until dusk (at Iftar, when Muslims break the fast). The visiting MPs exerted extensive efforts in opening channels of communications with their counterparts and within beltway political circles.
Although the first official Egyptian parliamentarian delegation to visit Washington DC in nearly a decade, it will not be the last. Egyptian legislators have expressed their desire to rebuild and strengthen bilateral relations, strained during the past two U.S. administrations.
Unsurprisingly, the meetings' agendas were filled, first and foremost with Egypt's sundry challenges: deep economic and institutional reforms (including the new investment and NGO laws), a counter-terrorism offensive, anti-corruption strategies, rural development and the rebuilding of infrastructure, to name a few. The status of Egyptian Christians and Egypt's role in leading religious reforms in the region and within the Islamic world, following President Sisi's bold call for the need to revisit theological practices, presented a spotlight in almost every meeting.
The meetings highlighted the importance of close bilateral ties between the two countries, rather than submitting to calls to downgrading the relationship with a country that is at the center of the Arab world. Egypt continues to be a significant ally in the global war on terrorism, remains the most influential country among its neighbors, and holds an irreplaceable place in the Middle East peace process.
Egypt Reaches Out
As Egyptian parliamentarians attempt to establish regular exchange of information with their U.S. counterparts in Congress, the administration, and the think tank community, U.S. Congress delegations should do the same when visiting Cairo. Instead of solely focusing on the executive branch represented by President Sisi and his cabinet ministers, the frequent visits paid by U.S. members of Congress should include other government branches as well, as Dalia Youssef, a prominent MP and member of the foreign relations committee suggested. "Knowing what weight the U.S. places on the role of the institutions of every nation and its non-official voices, including its civil society and representatives of the people, it would be reasonable to believe that U.S. legislators are keen to exchange views with their counterparts who voice out the opinions of the Egyptian people of the street," she said.
Egypt is Determined to Fight Extremism and Promote Multiculturalism
A testament to Egypt's desire to preserve its multicultural character – despite hate campaigns conducted by the underground Muslim Brotherhood with the intent to create rifts between Coptic Christians and Muslims – can be seen in the Egyptian ministry of antiquities' decision to allocate 22 million dollars to restore the 160-year-old Eliyah Hanavi synagogue in Alexandria, a small temple serving a Jewish community of less than 50 Jews. Just last week, the Alexandria library held a workshop, aimed at young Egyptians who have inquiries about controversial Islamic issues and theologies. Egypt's famous 1,000-year-old degree-granting University of Islamic studies in Cairo, Al Azhar, welcomed for the first time in its history, the participation of Christian Copts in their summer activities. This was a nod to strengthening national unity and reiterating a culture of diversification, as part of the Egyptian government's religious reform strategy.
Such positive efforts are worthy of acknowledgment and support, as is the work of Shafik Gabr, a successful businessman who established a foundation in the United States to bring young future Egyptian and American leaders closer together. Gabr's "East-West: Art of Dialogue Initiative" believes in people-to-people engagement as a core element of any long-term built on trust and mutual respect.
President Trump's decision to improve relations with President Sisi was a move in the right direction. Egypt is serious in its commitment to eradicate radical Islam falsely disseminated in the name of religion, improve its economy, reform its government, and walk the thin line – sometimes successfully and sometimes not – of insuring its citizens both human rights standards and national security. None of this can be achieved overnight, but the renewed relations between Washington D.C. and Cairo are likely to speed up this process. In any case, the new U.S. administration is a breath of fresh air for Egypt, and that is beginning to show.
The full article can be read here.