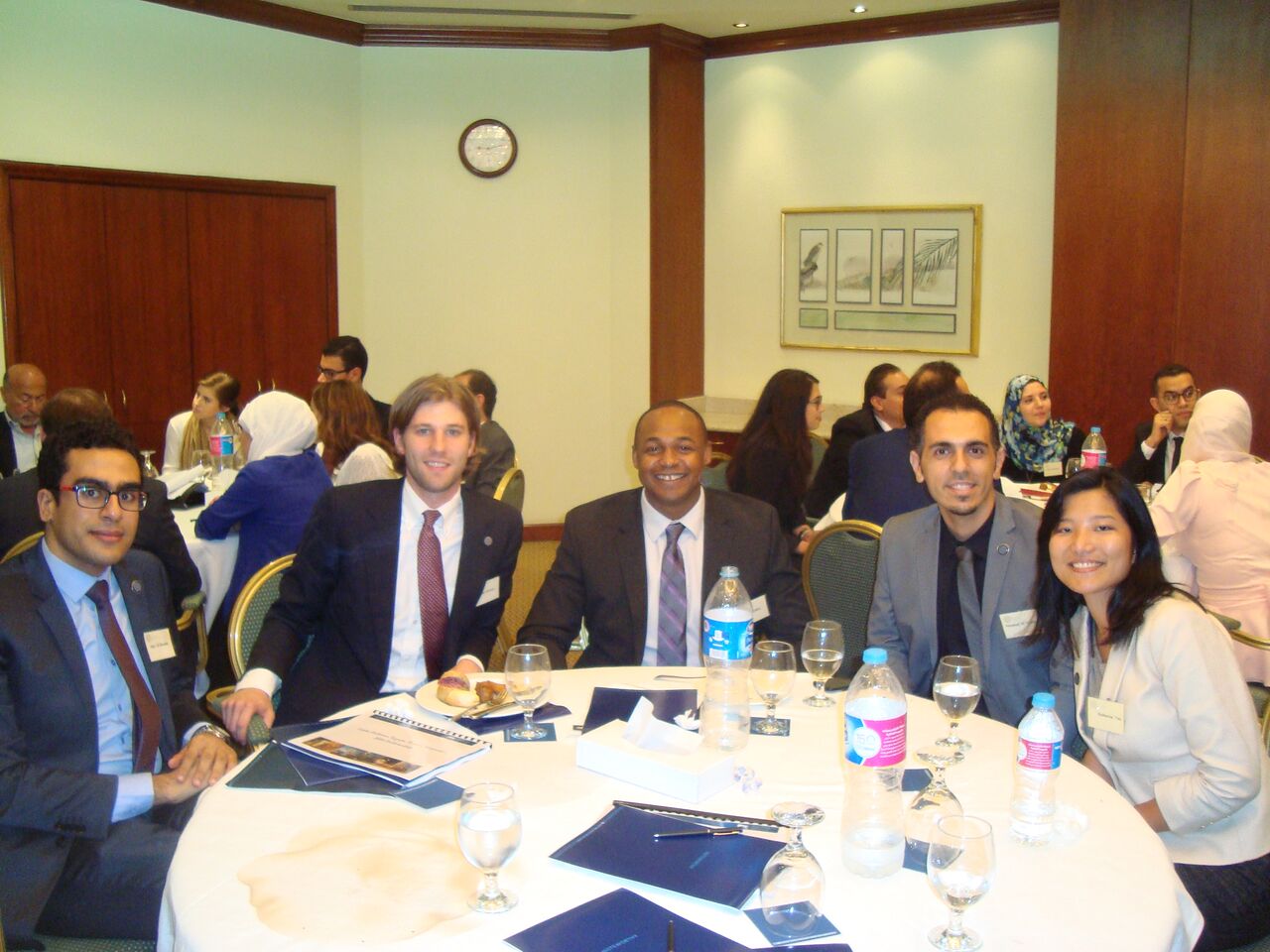 16 September 2016
My Fellows, My Family
by Katherine Tan
They say that intense situations compel people to bond more quickly. The ten days of the Gabr Fellowship that twenty-one other Gabr Fellows and I just spent in Egypt were certainly intense in the best sense of the word.
We were given open access to some of the most influential people in Egypt today – sitting government ministers, former presidential confidantes, members of parliament, Olympic athletes, celebrity actors, and renowned newscasters – and encouraged not only to listen, but to challenge them and challenge our own assumptions by asking questions.
We had as many as nine meetings in one day, a formal reception with luminaries, intense working sessions on our action projects, and miraculously, we still managed to see a bit of "authentic" Cairo and even sneak in a few hours of sleep most nights.
On the other side of this whirlwind experience, I developed a singular bond with my Egyptian, Lebanese, and American brothers and sisters. This bond was forged not only through long hours in meetings, learning almost as much from each other's questions as from the speakers' responses, but also through candid, paradigm-shifting discussions on the bus or in our hotel rooms, where we might sacrifice a few hours of precious sleep to soak up more insight, and from shared laughs and lighter moments, like impersonating each other on the tour bus.
The perspectives of my fellow fellows added depth and context to the lectures of the speakers. The beauty of the fellowship class was that we all brought strengths and experiences to the table that defied easy categorization – we were economists who were also artists and actresses, engineers who were also diplomats, software developers who also ran catering businesses, technology and security specialists who were also dancers and freestyle rappers. Informed by these backgrounds, we were able to candidly exchange opinions on topics that even our speakers might not have discussed freely.
One of my favorite memories from the fellowship happened after one speaker stated that the US "created Al Qaeda" and implied that the US and Europe were complicit with or were even supporting Daesh, which sparked tense reactions amongst the American fellows in our group. Instead of privately stewing on our anger, however, the fellows were encouraged to share our reactions afterwards with each other in a constructive discussion.
On our ride to the next meeting location, we were all treated to a nuanced, comprehensive historical analysis of the US's motivations in Afghanistan in the 1980s and in the early 2000s, the consequences of the first and second Iraq wars, the perception that inconsistent US foreign policy creates to observers in the Middle East, and the domestic political factors currently constraining current US military and foreign policy strategy by two successive fellows, one Egyptian and one American, while the bus pulled over to the side of the road to accommodate our enthusiastic speakers.
Not all of our fellowship discussions were so erudite, but many were illuminating and personal. Our conversation topics traversed society, politics, economics, religion, and popular culture - norms around dating and sexuality in Egypt and the US; common expectations of parents and generational differences in the two countries; differing interpretations of Islam and the factors driving radicalization in any religion; the experience of living through history, first in January 2011 and then in June 2013 in Egypt; different reasons behind women choosing to wear or not wear the hijab; attitudes towards Bedouins and Nubians in Egypt compared with racial attitudes in the US; the reality behind the "American Dream"; economic inequality and socioeconomic segregation in Egypt and the US; whether "Friends" and other TV shows offer a distorted image of the US; feminism and women's social, economic, and political status in the two countries  – discussions which by their very nature preclude easy generalizations and shatter misconceptions.
When I applied for the Gabr fellowship, I knew that I would have the opportunity to meet and learn from many inspiring, accomplished young people – that was one of my primary motivations in applying for the fellowship.
What I didn't know was that within a matter of days I would become part of a giant, trans-Atlantic, Egyptian, Lebanese, and American family. I know that family will stay with me long after the formal fellowship program closes, and the real journey begins.