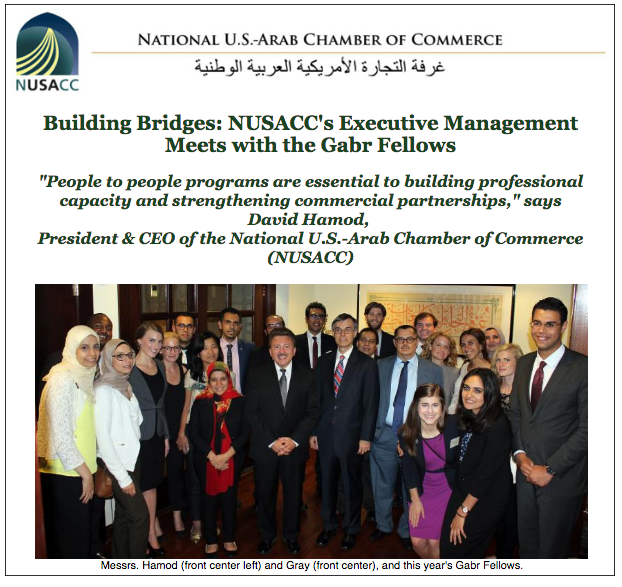 23 September 2016
The National U.S.-Arab Chamber of Commerce has issued the following press release article about their executive management team meeting with this year's Gabr Fellows.
Building Bridges: NUSACC's Executive Management Meets with the Gabr Fellows

NUSACC's executive management team met recently with this year's Gabr Fellows, young professionals from Egypt, Lebanon, and the United States who have been selected for their potential to play a significant role in building bridges toward sustainable development and cross-cultural understanding.
David Hamod, President & CEO of NUSACC, shared with the Fellows his personal perspectives as an American of Arab descent and his professional views on U.S.-Arab commerce as the longstanding head of NUSACC. "Cross-cultural understanding, nurtured by organizations like NUSACC and the Shafik Gabr Foundation, plays a vital role in the relationship between the United States and the Arab world," Hamod noted. "NUSACC supports people-to-people programs like this one because, at the end of the day, they are essential to building professional capacity and strengthening commercial partnerships."