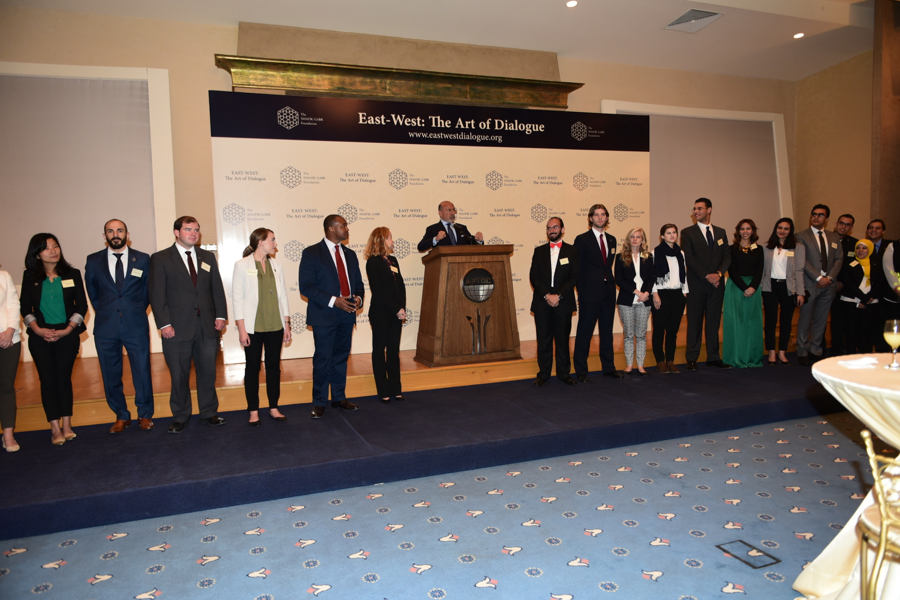 Mr M. Shafik Gabr and the 2016 Gabr Fellows
21 October 2016
Structure and content has pushed us to our boundaries
by Hani Elzoumor
East-West Art of Dialogue is a brilliant initiative from Gabr foundation for building the bridges of humans who are living in the different corners of the world. From the very early moment the fellows met each other, bridges of communication started to be built.  The structure and content of the fellowship program have pushed us to our boundaries to do our best, to learn, and be exposed to, new knowledge, thoughts and ways of livings we had never experienced before. I was blessed to know many exceptional humans, and to establish long lasting friendships with twenty-one bright minds who will be the future leaders in their respective fields. Throughout dialogue, the fellows established means of constructive and mutual understanding, and most importantly, they learned how to accept, tolerate and respect the other.  I am quite confident that each single fellow has gained a new experience that will last with him/her forever.
One of the most distinguished aspects of the program is the sessions we had by a wide group of renowned figures from Egypt and the United States. For me, each single session has stretched my thinking boundaries and opened it to new horizons, and taught me how to look carefully at the big picture, as well as every small detail, in my life from a complete different perspective. Ranging from politics, economics, arts, culture, history, technology and business topics, all fellows actively engaged into these interesting sessions that revealed exceptional talents and various points of excellent in every and each single distinguished fellow.
Moreover, a remarkable feature of the program is the cultural site visits we had in both countries. In Egypt, I was overwhelmed by rediscovering my country history with my beloved American friends, as I enjoyed their unprecedented impressions and feedback about how spectacular the Egyptian monuments are, and how diverse the Egyptian culture is. In the United States, many stereotypes I had about that country have totally changed. After visiting many cultural sites in New York and Washington D.C, I was impressed by how the American people built one of the leading civilizations in contemporary history based on justice, tolerance and sacrifice. I will not forget the night we visited Lincoln Memorial, and when my fiend Robby read and explained to me the great speeches given by the U.S. president Abraham Lincoln and written on the both sides of the memorial walls.
I do believe the most important times are those we spent after formal meetings and visits. The time we had between sessions, after the day, at cafes, in receptions, in bus, at the metro and train stations, at elevators, at street walks, and at dinning time is when the true dialogue was taking place. On another note, I was more than lucky to be engaged with my amazing friends Alexis and Robby to do our action projects together by establishing the Egypt - U.S. startup connection. It is the first of its kind to help youth in both counties to follow their passions and start successful and sustainable businesses. I do believe that with our cooperative and dedicated efforts, we will add value through linking the entrepreneurs' communities in both countries.